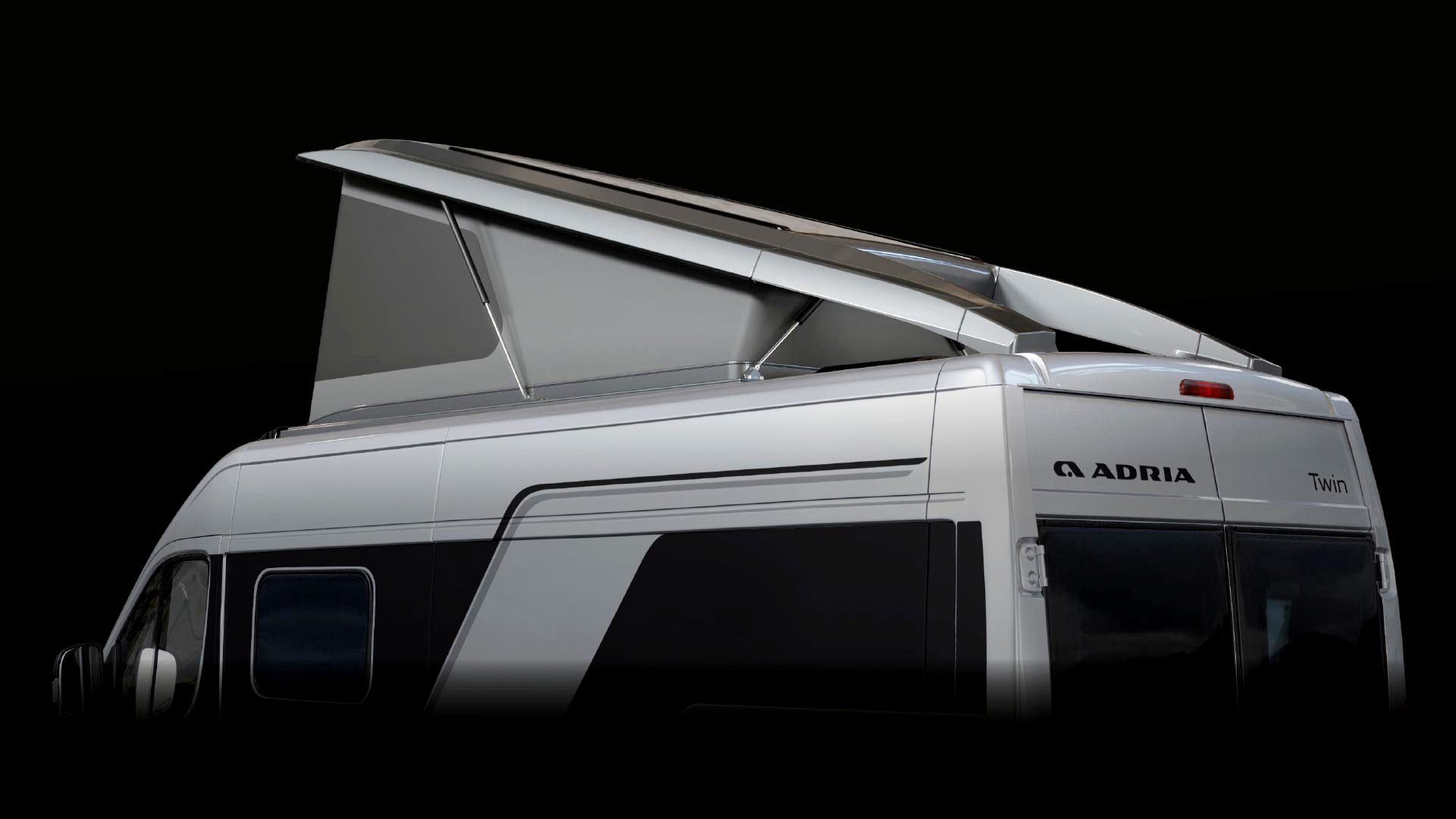 The Pop-Top with the innovative roof.
The development of the roof is a story of innovation and partnership between Adria and Elan, a technology-led manufacturing company also based in Slovenia, the home of Adria Mobil. Elan are known as makers of fine ski equipment but they are also in the boat and therefore composites moulding business.
So, what is the story behind this remarkably effective, inspired solution? Did you know that the roof of the Twin Sports was actually developed with ELAN, renown skis, snowboards, sailboats and motor yachts manufacturer?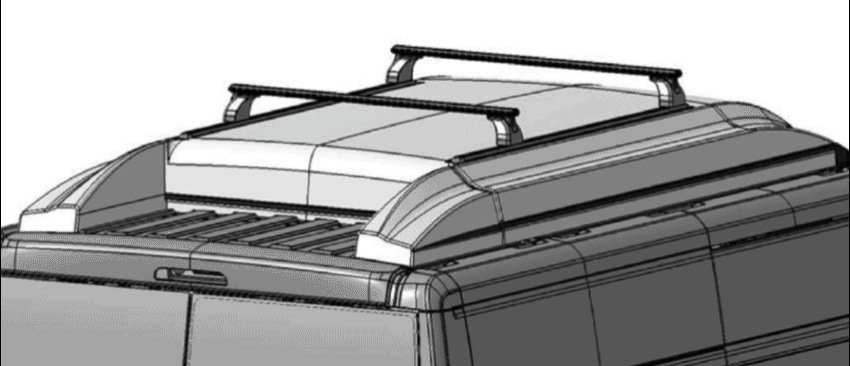 The project which started with simple brief:
"The current panel van needs an extra 2 sleeping places" resulted, in the end with the best pop-top roof in campervan market today.
Elan has the know how about composites and Adria of course has the experience in caravanning and between us we can bring agile prototyping, with after only 5 months of development the first workable prototype.
Everything after that was focused on design and detailing from the tent style, mosquito net to the roof closing mechanism and providing a comfortable sleeping area.
After intensive testing in real conditions (winter, rain, wind, sun...) we managed to prove that our partnership result are remarkable pop-top roof solutions.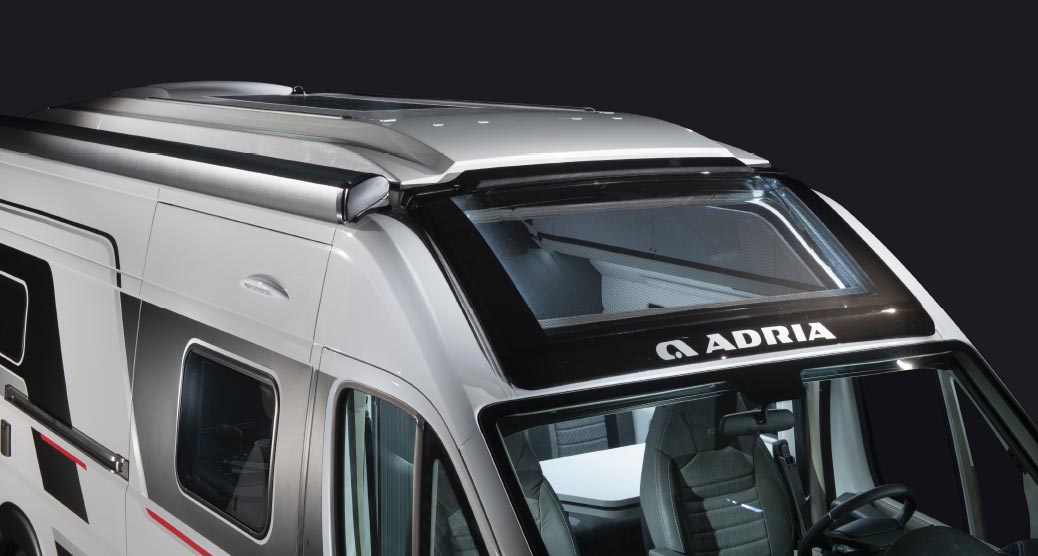 Pop-Top Roof
The pop-top is nicely styled and features aerodynamic integration of the lightweight composite pop-top roof onto the body of the van. It integrates with the exclusive SunRoof panoramic window and also with optional equipment like air conditioning, flex solar panel 140w, midi-heki and awning.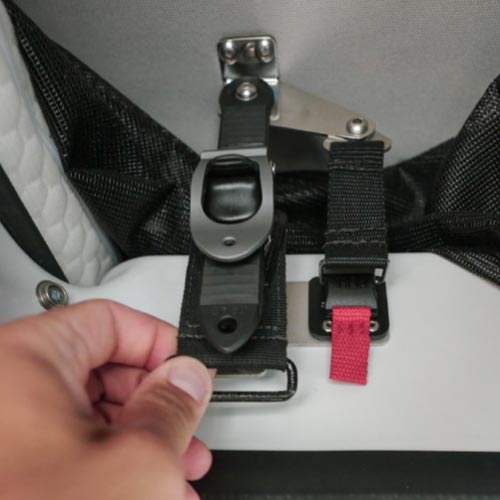 The design and construction ensure completely secure use, when open or closed and also features two separate roof locking mechanisms.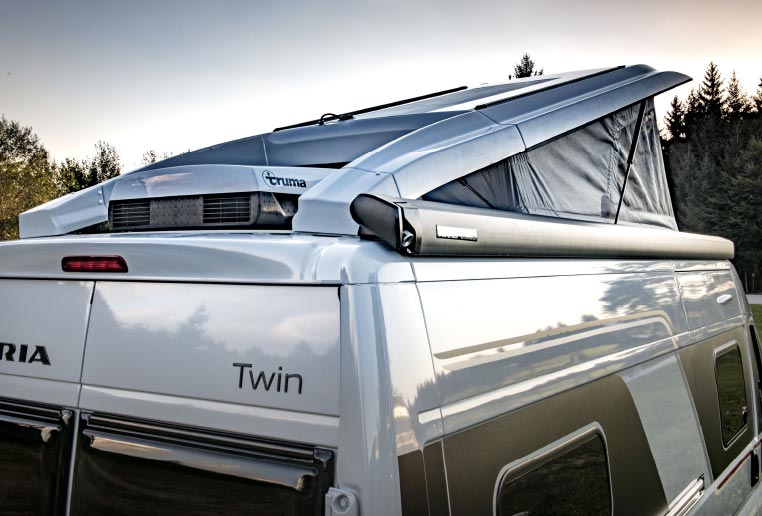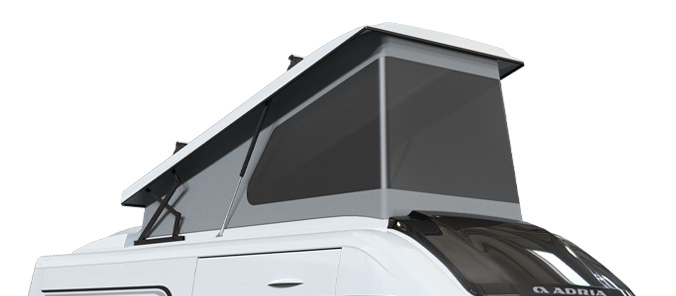 On the longer 640 models an ingenious, easy to use pivot mechanism, with extended side arms, for perfect closure and integration with the van roof when not in use and stability against winds, when in use.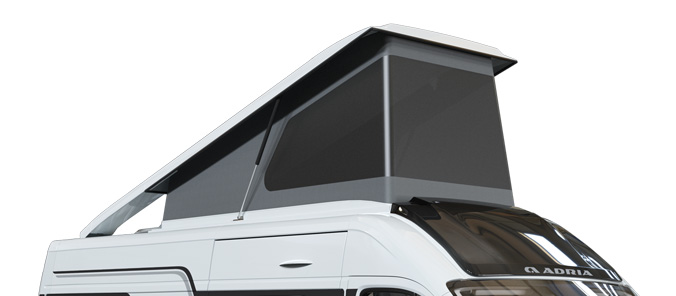 On the shorter 600 models the compact pop-top uses an easy to operate scissor mechanism, with perfect closure.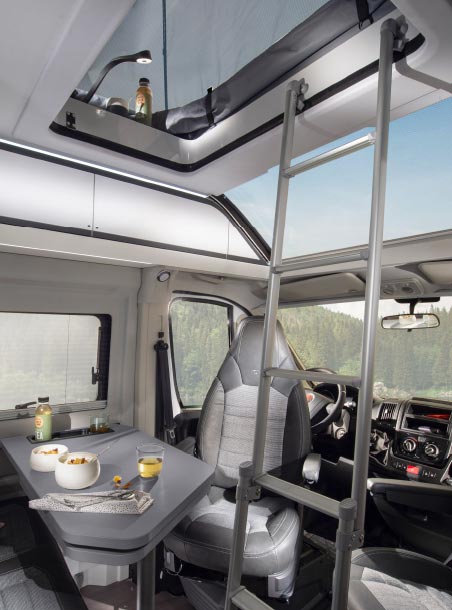 Customer's recognize numerous features, from the easy access, comfortable sleeping, quality of materials and craftmanship. Setting up the elevating roof is easy & as night falls, you can transform the camper van into your own comfortable bedroom.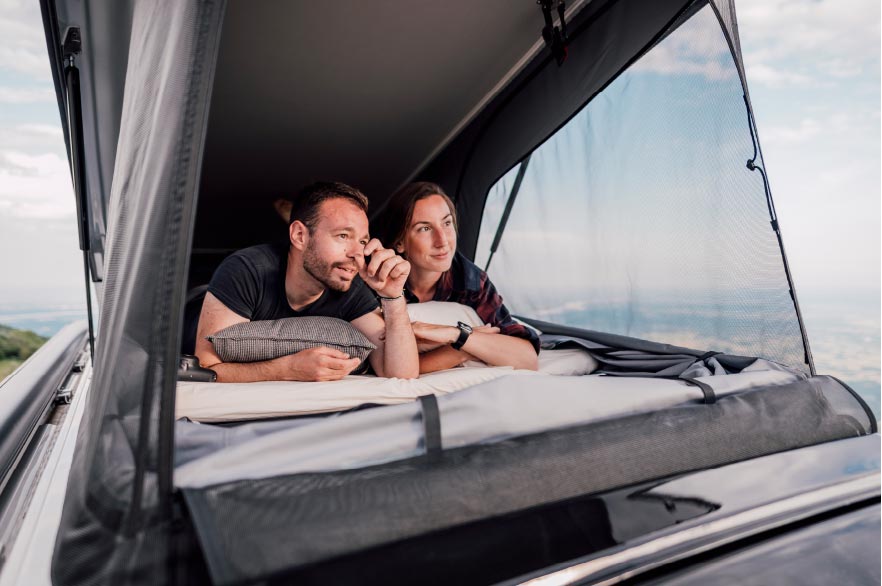 Sleeping Compartment
Adria exclusive design pop-top sleeping compartment adds extra accommodation for great comfort.
The 120x200cm sleeping compartment has a comfortable mattress, useful storage space, USB ports and reading lights.
The sleeping compartment ''tent'' is made in acrylic-based materials, for insulation, water resistance and breathability.
It also features fixed mosquito screens, front screen can be opened independently.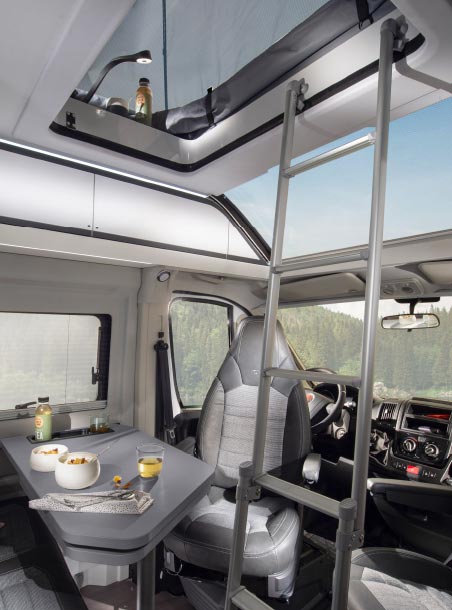 Now you can also buy separately an Insulated canvas which offers maximum protection for colder days and can be easy mounted via pre-mounted zippers.
You can also buy cosy heated mattress with independently controllable 2 zones. Each zone with a temperature sensor.
Two occupancy sensors are provided for the left and right zones. A control button with LED indicators is provided for each half of the bed.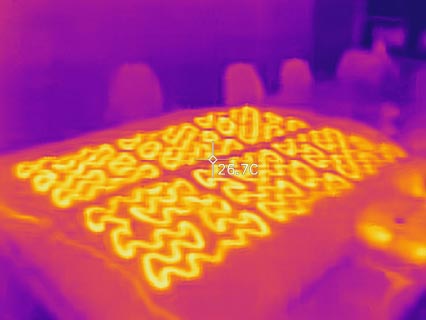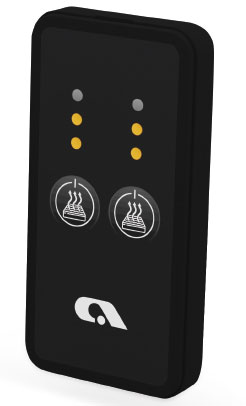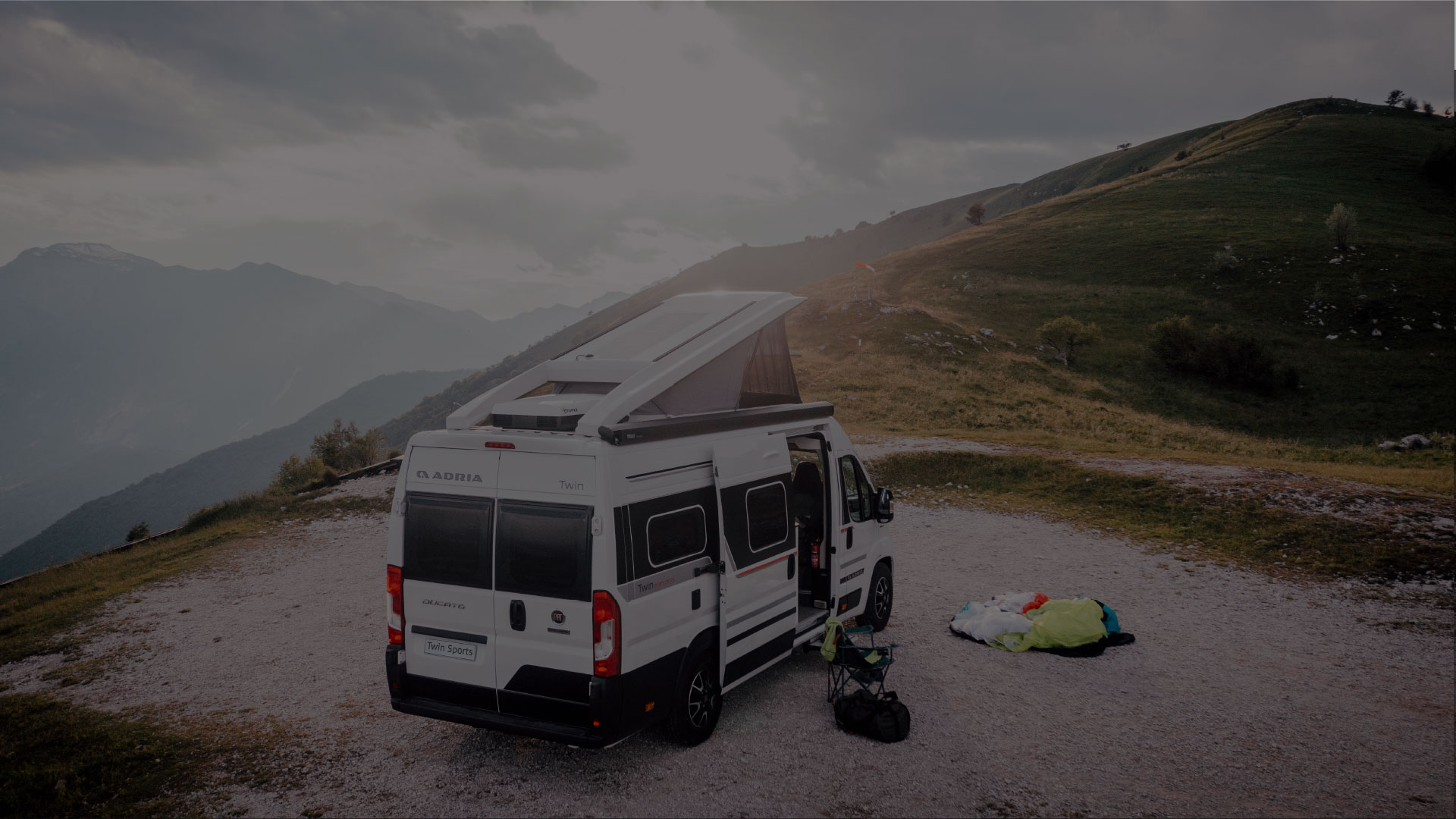 So, if you are torn between a regular Twin or a Twin Sports, then ultimately the amount of accommodation you need will sway your decision but at least you can sleep restfully up top, if you decide on the best pop-top campervan available.
More information: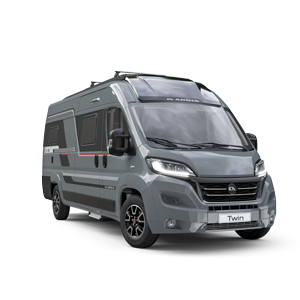 Twin & Twin Sports
Other articles: