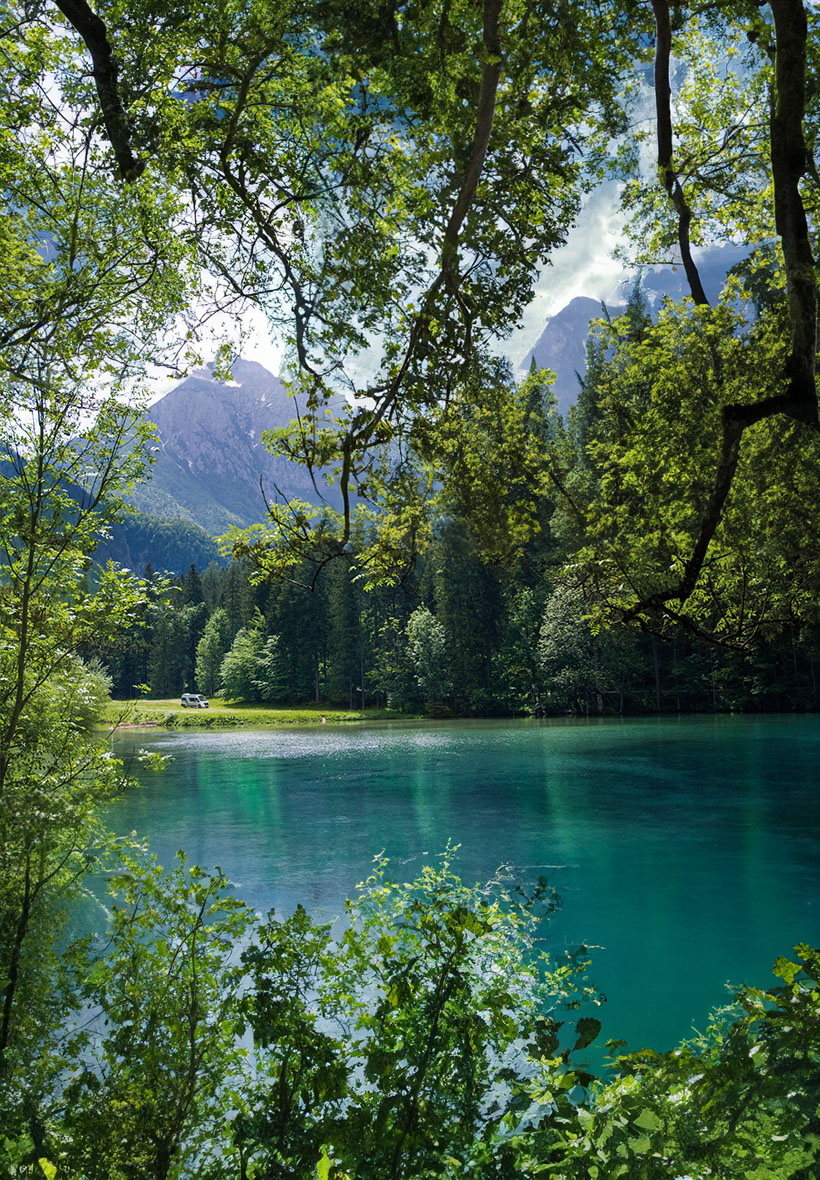 Made in Slovenia
Slovenia.
The home of Adria Mobil's state-of-the-art manufacturing operations.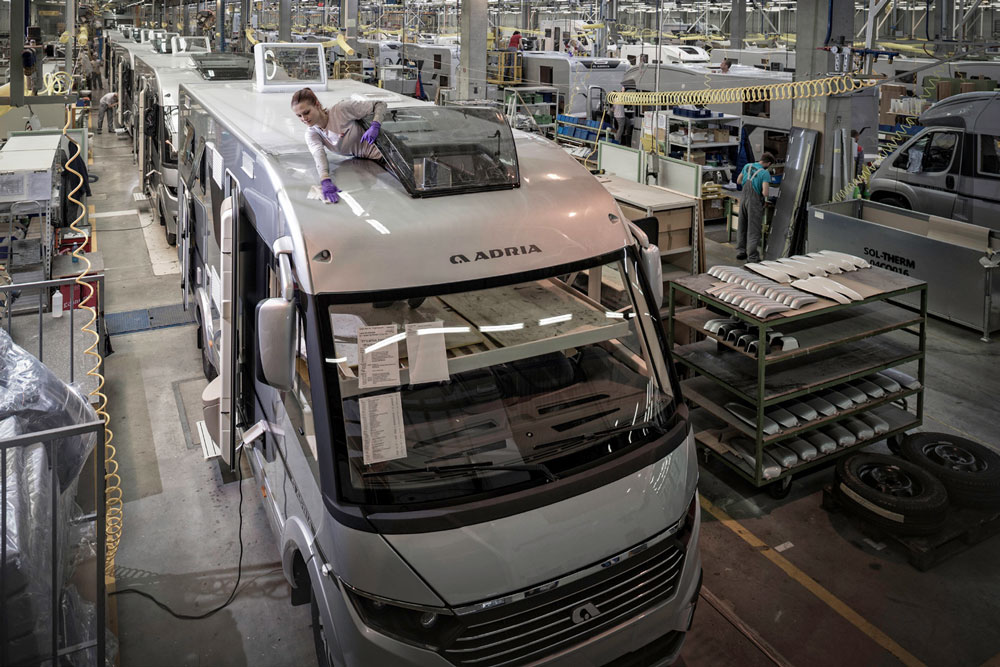 Adria Mobil is the organisation behind the Adria brand and manufactures all Adria products in locations in Slovenia, employing over 2,000 people. The Company has a clear vision, mission and a set of values and is a Certified Family-friendly organisation.
Since the start in 1965, over 600,000 recreational vehicles have been produced. It operates ISO 9001 EFQM five star certified advanced manufacturing facilities employing world-class manufacturing principles and processes, with two main sites located close to each other.
Motorhome & Caravan production,
Prečna, Novo mesto.
The largest and most advanced recreational vehicle manufacturing facility under one roof in Europe. Built in 2005, at the time a €35 million investment, the site covers 147,735 sqm with a production hall in excess of 43,000 sqm.
This is a state-of-the-art facility with just-in-time fed moving production lines, advanced automation, plasma-treat robots, climate chamber and monsoon water ingress testing. Adria motorhomes, caravans and Sun Living motorhomes are made here.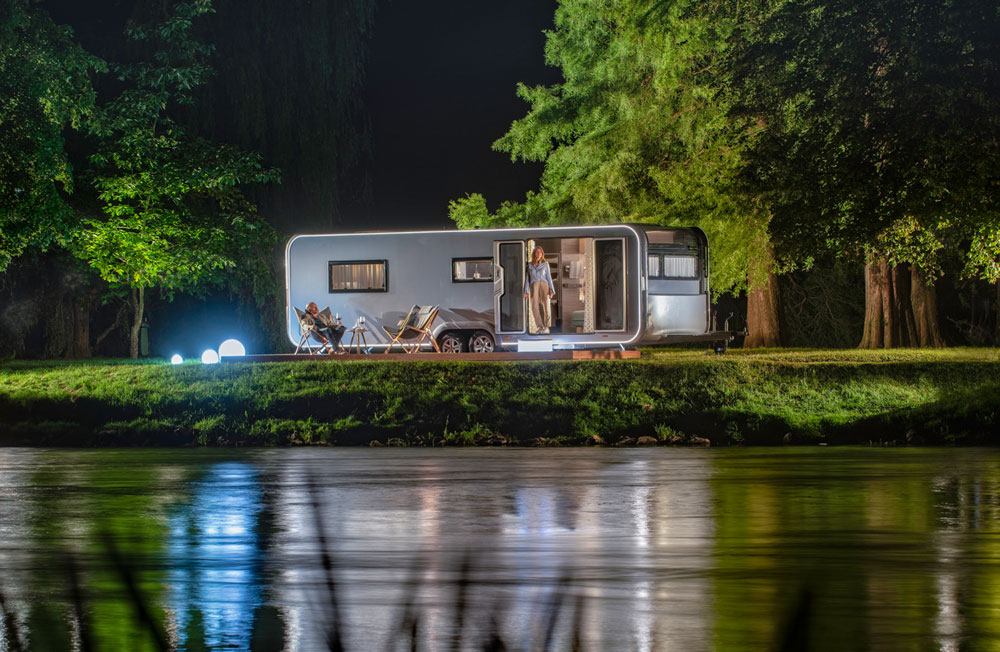 In Spring 2022 vehicle production was reorganized into six new lines. A dedicated integrated motorhome line for Sonic and Supersonic and an adjacent line for premium large caravans, Astella and Alpina.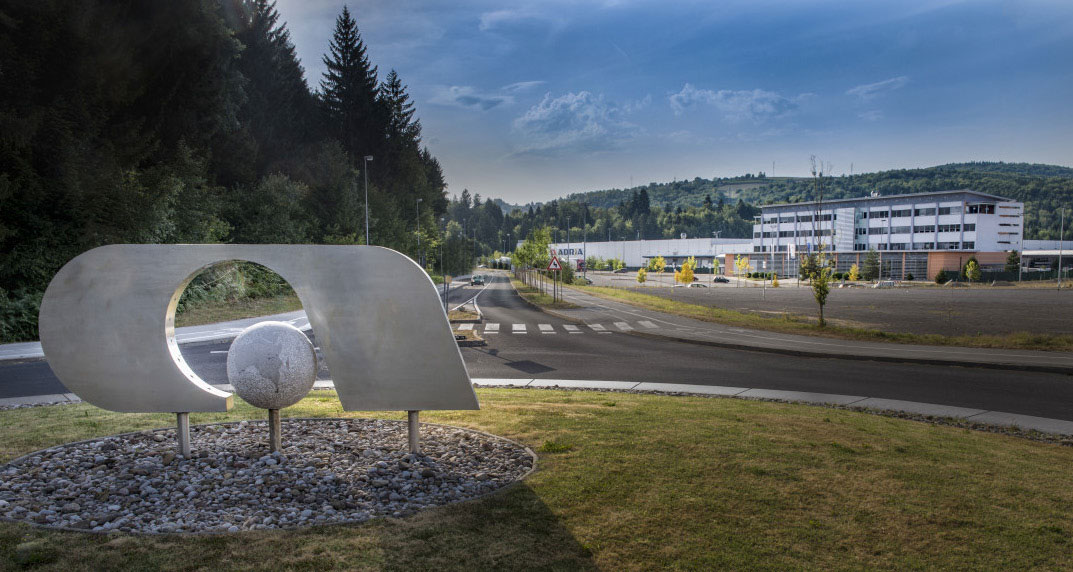 A large area in the facility is occupied by Sandwich Panel & Body production, which was expanded in 2021, with new technology and machines to make floors, sidewalls, roofs and large curved parts, like front walls. The electro-line (wiring and wire harnesses) was relocated to an adjacent facility, next door which is also the home for After Sales, Technical Support & Spare Parts central warehouse covers 4,000 m2 with over 10,000 spare parts lines supporting 30 markets.
It carries over €2,5 million of spare parts, covering vehicles up-to 10 years old.
Campervan production, Bič.
The new campervan manufacturing site, located just a few kilometres away, is a €6 million investment, opened in Spring 2022, producing panel van and mini-van conversions, with an annual capacity of 10,000 vehicles.
The building covers 8,500 m2, making it the largest dedicated campervan factory in Europe. In one door basic vans enter the building and at the end of one long production line, brand new Adria Twins, and Twin Sports models emerge. A dedicated area within the facility makes Adria Active mini-vans.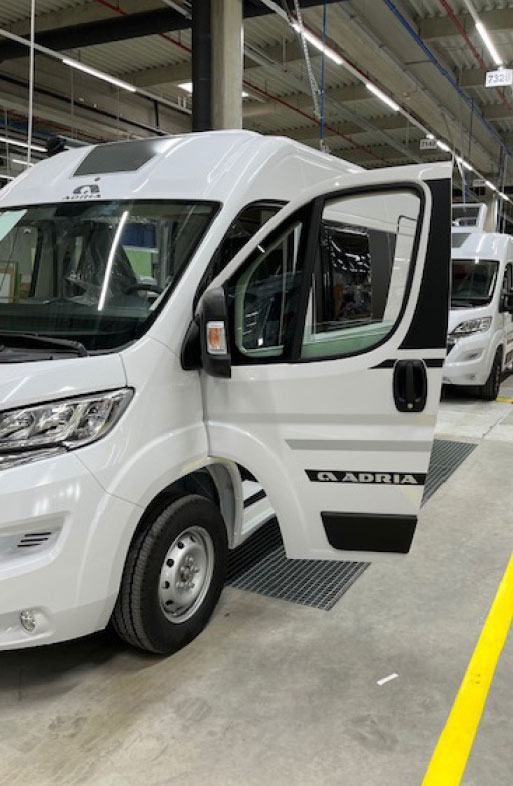 Mobile Home and Glamping Tent production, Črnomelj.
The most advanced facility in Europe for manufacturing Adria brand mobile homes and glamping tents, principally sold to resorts and tourism businesses.
Podgorje Furniture production, Šentjernej.
One of the leading European manufacturers of furniture for leisure vehicles, used in Adria Mobil products.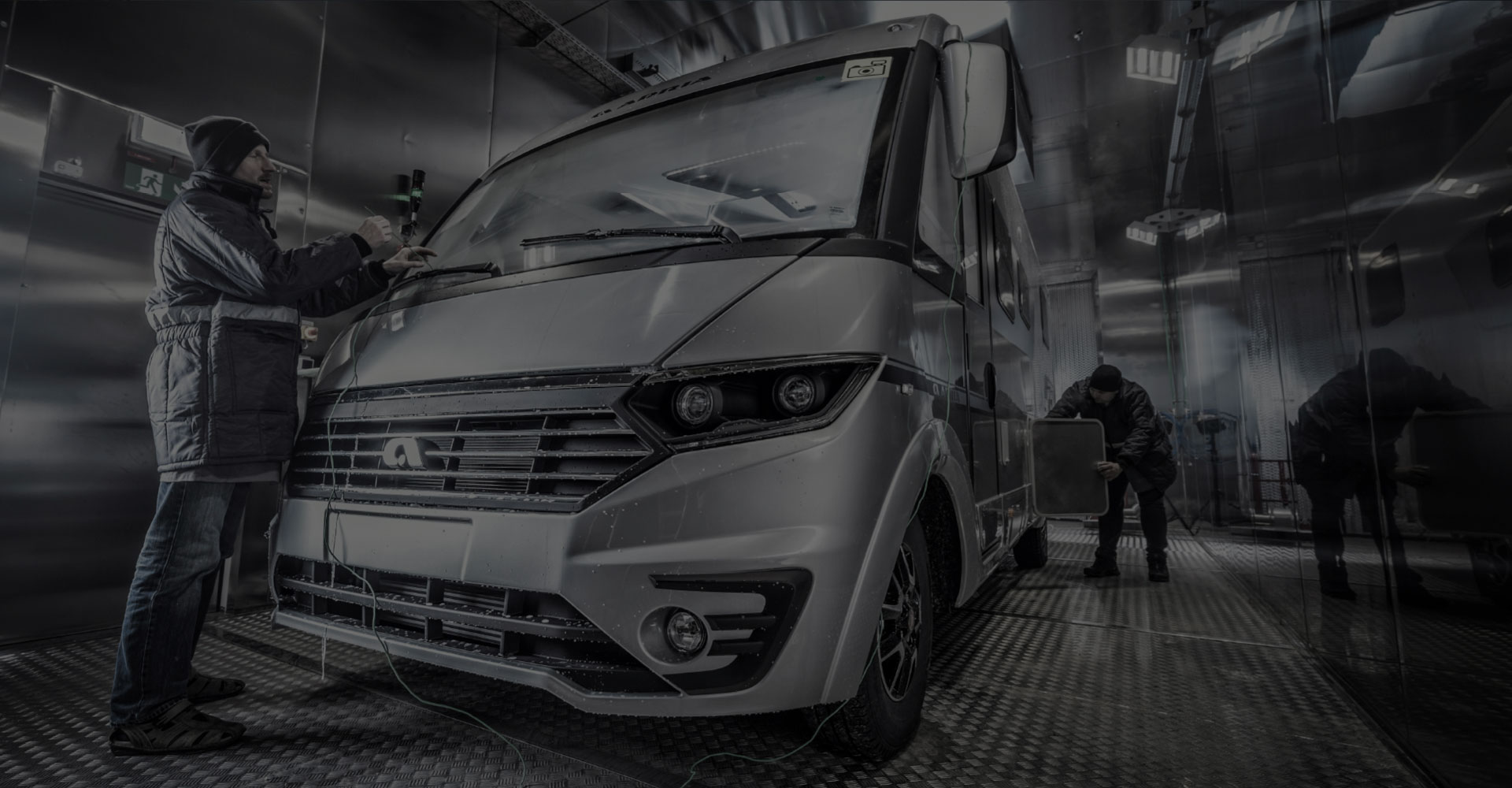 Quality Testing
CLIMATE CHAMBER.
Vehicles are tested in an on-site climate chamber, from -40 to +60 degrees and in humidity from 45% to 80% between +30 and +60 degrees.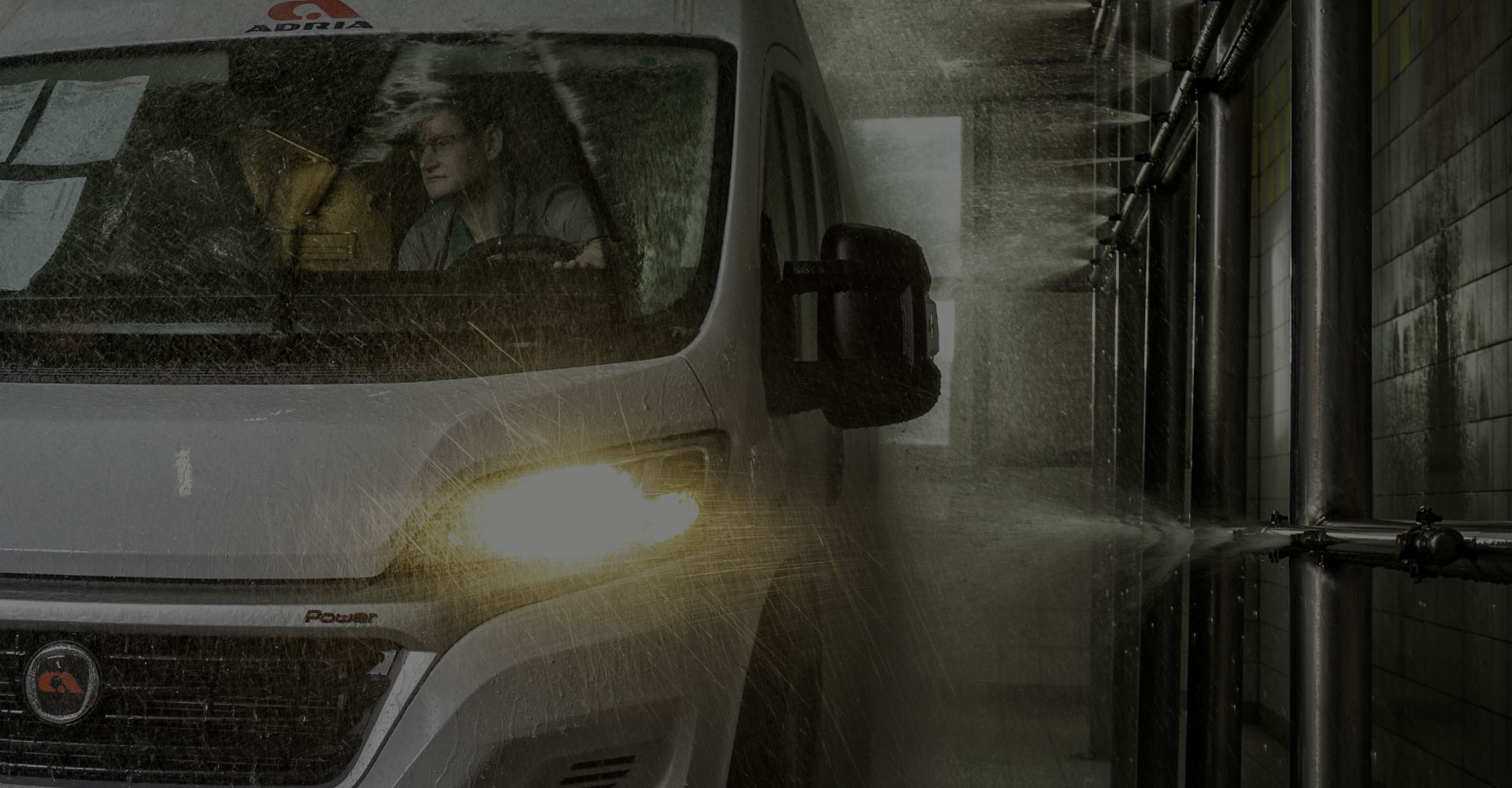 Quality Testing
MONSOON TEST.
Vehicles are also subject to a ''monsoon test'' which ensures no water ingress, this is a large vehicle-sized drive-in shower and a key part of the quality control process.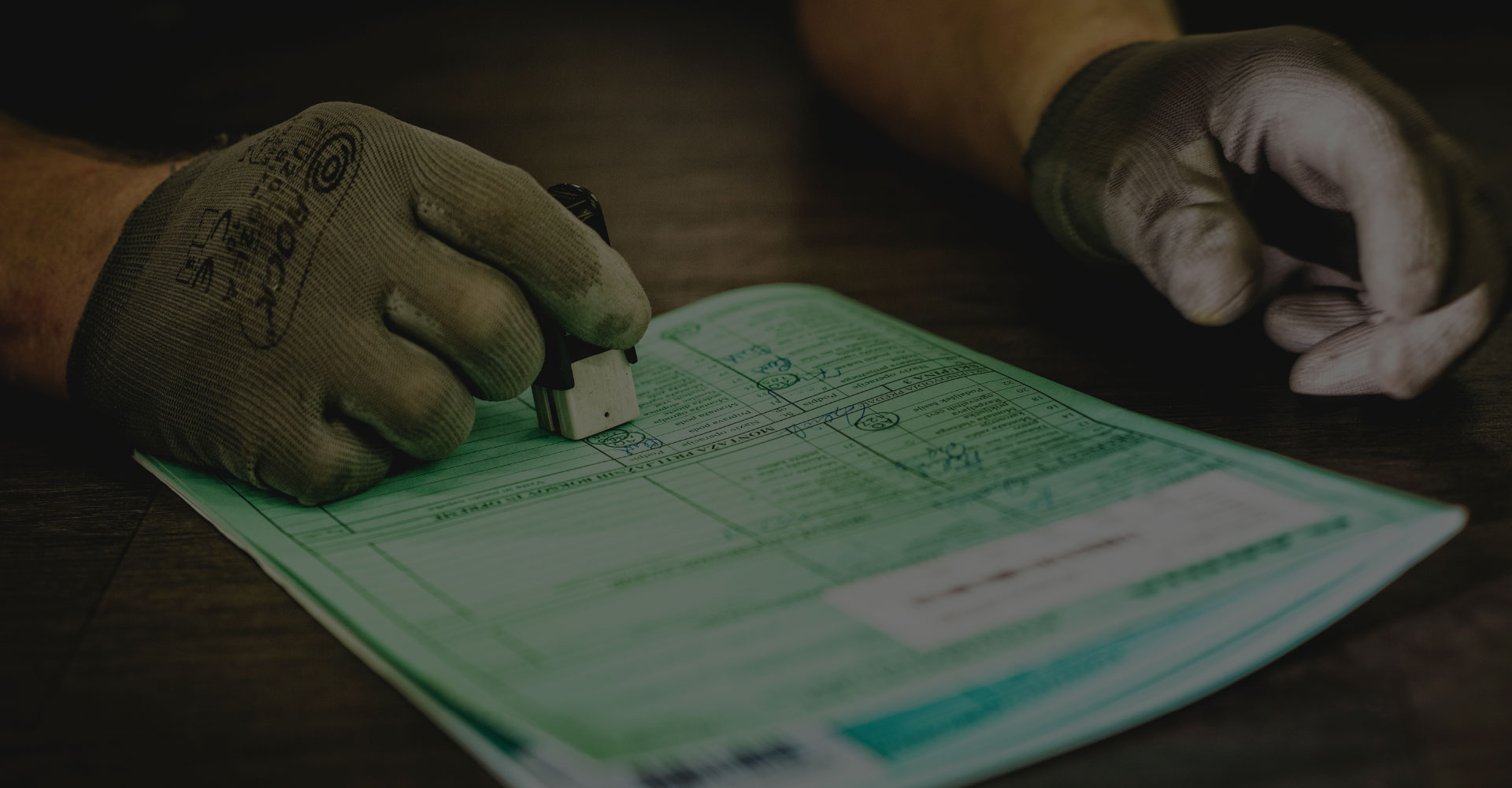 Quality Testing
UPPER CONTROL.
In addition to the built-in quality process in every production line, a random 5% of production output is ''super control'' tested, with in depth vehicle audits and results fed back into the design and manufacturing process.
Technology
Plasmatreat.
An advanced robotized process is used to clean and apply adhesive for perfect aperture sealing.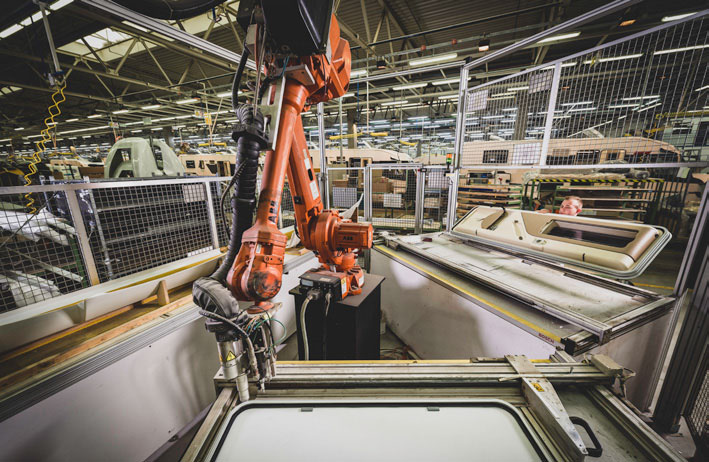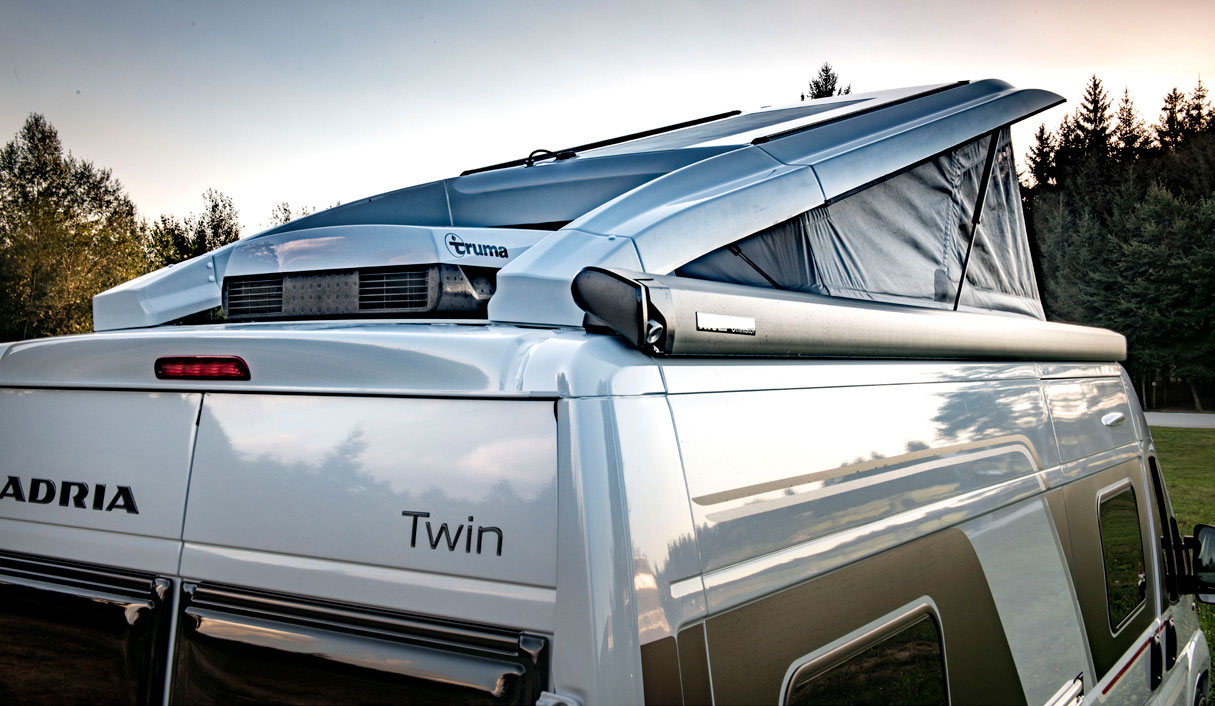 Pop-Top Roof Mounting.
Adria's roofs are an ingenious design and are really well integrated into the van roof. One special machine picks up and attach the pop-top roof to the vans, an operation which takes just 16 seconds.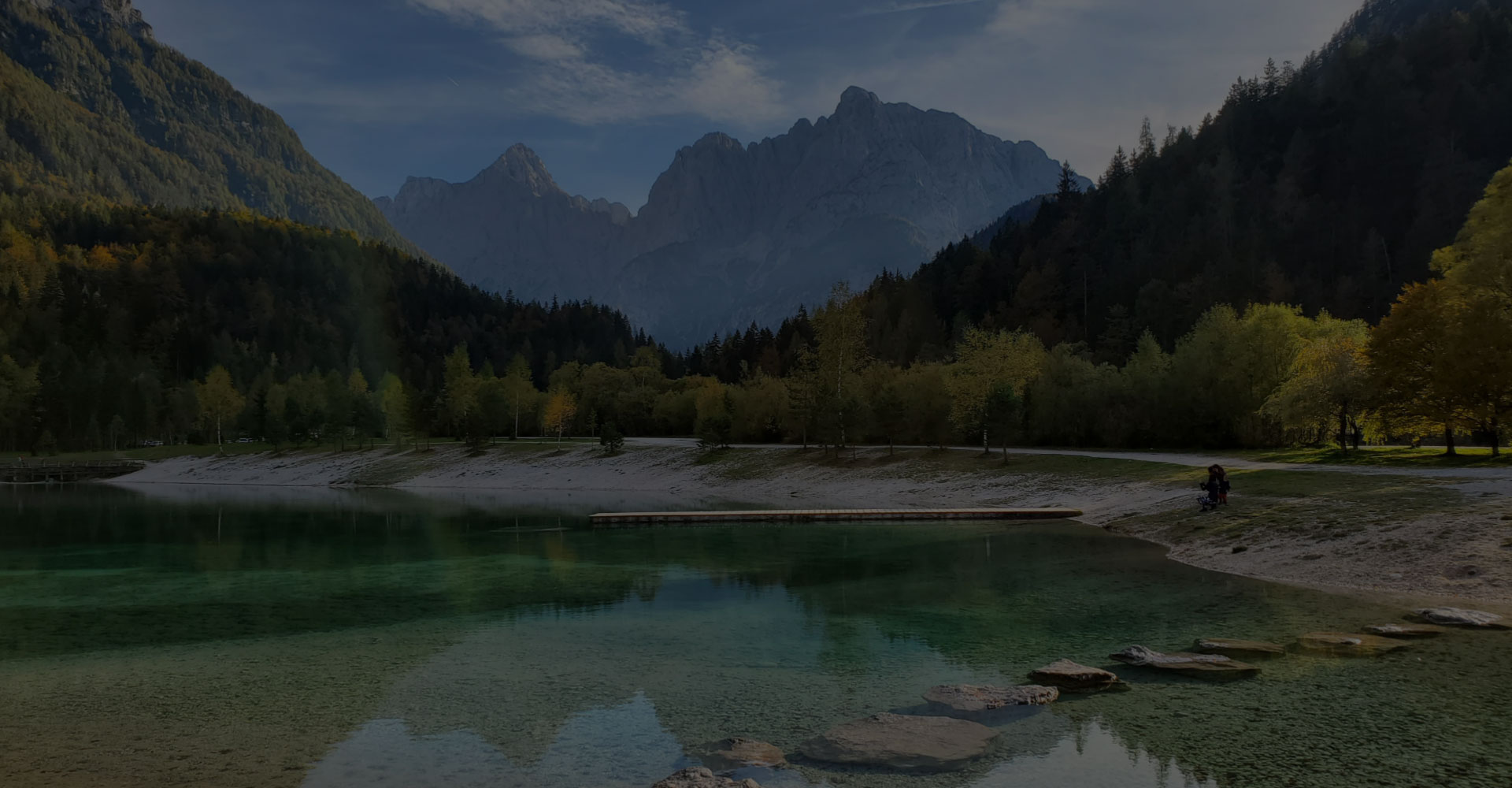 Adria Mobil is located in Slovenia, a country known for its green policies and for being an outstanding destination for sustainable tourism. If you haven't been to Slovenia, go soon, as it has become one of Europe's top destinations for those in the know.
The I feel Slovenia campaign summarizes what the country has to offer:
"Slovenia is the green heart of Europe, where everyone can find something for themselves. It's difficult to find such a small region offering so much anywhere else in the world. Whether you enjoy walking well-trodden paths or prefer to turn off the beaten track, you will find stunning beauty and boutique experiences tailored just for you everywhere you go.''
And best of all it's a great place to visit in a recreational vehicle – Adria – of course. With good roads, good camping places and short distances between key destinations such as Lake Bled, the Triglav National Park, the capital Ljubljana, the vineyards of Goriska Brda, the world-famous Postojna and Skocjan caves and the short but perfectly formed coastline around Piran.